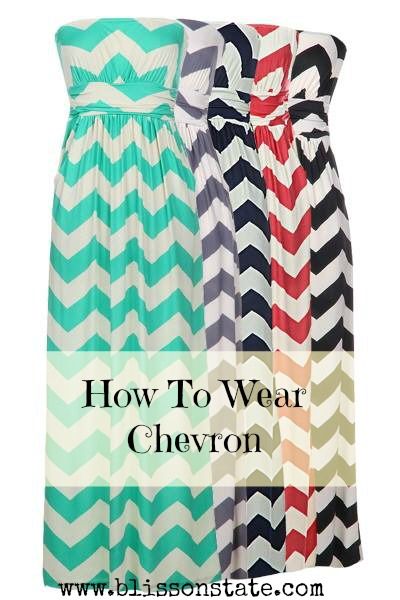 The weather is turning warm, the sun is peeking out from behind the clouds and it looks like spring is here again.  It's the perfect time of year to put away our heavy boot and coats and bring out some color and pattern into our wardrobes.  A great way to incorporate some spring flair is with the ever popular (and gorgeous) chevron print. 

Unless you've been living under a rock, you've seen this pattern literally everywhere, from Hollywood sidewalks to Pier 1.  These fabulous stripes have been showing up on everyone's must haves list for a few seasons now, and for good reason, it's an easy to wear pattern that looks great. 

Some Do's and Don'ts Of Chevron Prints

Do choose a chevron print maxi dress for an effortless day to night transition.  During the day, wear your maxi with a light chambrey vest, flats, and a great bag, then switch it up with a pretty fitted cardigan, some strappy heels and clutch for a breezy date night look
Do pair chevron with neutrals, so it doesnt become overwhelming.  You want the print to be the focal point.

Do use chevron stripes to highlight your body.  A printed skirt with a solid top is a great way to balance a larger chest while a bright and playful tunic paired with black leggings brings the attention upwards.
Don't be afraid of try it.  If all over prints aren't your thing, try a great clutch or printed skirt paired with a neutral top.  The great thing about bold patterns is that they can make a big impact, even in small doses.  Another alternative is to try subdued chevron stripes such as a pale grey and white paired with bold accessories.
Don't over accessorize – keep things simple and let the pattern speak for itself. 
The most important rule of all though is to have fun with it, after all, that's what fashion is all about!
We recommend: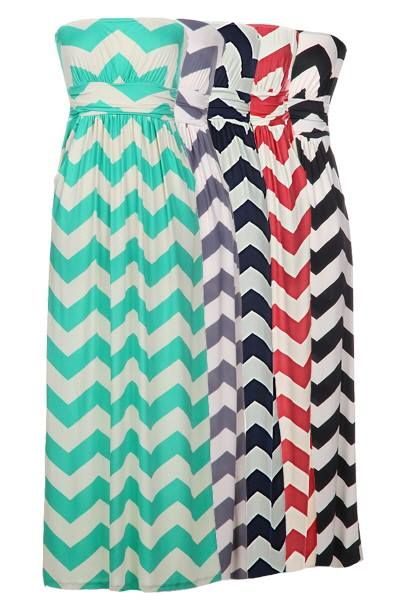 Chevron Maxi Dress
 Available in the teal, grey, navy, red and black